Welcome to The MCR Restaurant and Bar.
Set within the stunning vaulted ceiling which once formed part of the original Victorian kitchens below, the Inn's Restaurant & Bar awaits.
Serving breakfast, lunch and evening meals, our team creates delicious and creative menus that change weekly. We pride ourselves on using seasonal and local ingredients within our innovative dishes or as flourishes for our coveted cocktails.
All menus are available for dine-in or take away.
Opening Hours
Monday to Friday:
Breakfast: 8 – 10.30 am (Wednesdays only)
Lunch: 12.15 – 2.30 pm
Afternoon Tea: (pre-booking essential at least 2 days in advance) 3 – 5pm
Evening Dining: 6 – 8pm
Bar open: 10.30 am – 10.30 pm
Group reservations are available from 7 to 15 for dining and up to 50 guests for receptions in The MCR. Please email The MCR Team for further details.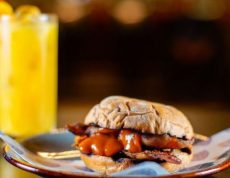 Breakfast Menu
From hearty breakfast rolls to nutritious granola pots, our breakfast menu is a great way to kick start your day. (Wednesdays only)
Download the menu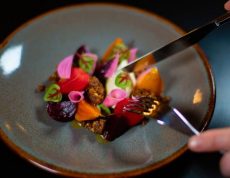 Lunch Menu
A delicious à la carte menu designed to highlight seasonal ingredients and modern cooking styles.
Download the menu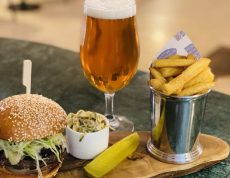 Evening & Bar Menu
Small plates and satisfying 'classics' to perfectly complement our innovative bar menu.
Download the menu
Make a booking
Our heated and partially covered Garden Terrace offers picturesque views of the Inn's grounds; perfect for al fresco dining or sipping a perfectly curated cocktail as the sun sets.