Filming & Photography
Owing to its varied architecture, beautiful gardens, spacious squares, historic halls and panelled rooms, Lincoln's Inn has long been used by film production companies as a location, and by television companies for interviews as well as drama productions with either a legal theme or a period setting.
Permission
Permission to film or photograph anywhere on the estate is always required. Filming or photography is never permitted in the Library.
The Estate of Lincoln's Inn is in the midst of its biggest set of changes for well over a century and major works to the Great Hall, the Library and the Eastern Terrace means that filming or photography projects cannot take place between July 2016 and May 2019.
We are unable to make any exceptions to this temporary ban on filming or photo-shoots of any kind. Please contact Wiebke Morgan, Member Services Manager, below with any enquiries regarding filming or photography at the Inn.
How to apply for permission
You have two options:
Email the Member Services Manager with your request, giving details of date, timings , crew size, and a brief explanation of what you are planning to do. Please allow for at least one month advance notice.
Or
Complete our application form, which can be found in the Downloads section on the right-hand side of this page. Again, allow for at least one month advance notice.
Please also see our Code of Practice for filming, downloadable from this page. For further information or to arrange a visit please contact Murray Campbell, Assistant Under Treasurer, below.
How much does it cost?
Here are our most common daily and hourly rates. A day starts at 8am and needs to end at 10 pm at the latest. Additional rates apply for interior spaces.
Per Day

Per Hour

Filming
Exterior

£6,000 (+VAT)

£600 (+VAT)

Still Photography

£2,000 (+VAT)

£200 (+VAT)

Extras (e.g. Green Room)

depending on project

depending on project
Lincoln's Inn or Lincoln's Inn Fields?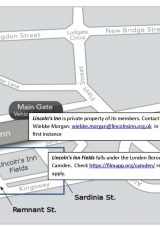 'Lincoln's Inn Fields' is the park (owned by Camden Council) that is just outside the estate (buildings and squares) of  'Lincoln's Inn' (owned by its members).
If you are thinking of a photo-shoot or filming within 'Lincoln's Inn', then we look forward to hearing from you- please see 'How to apply for Permission'.